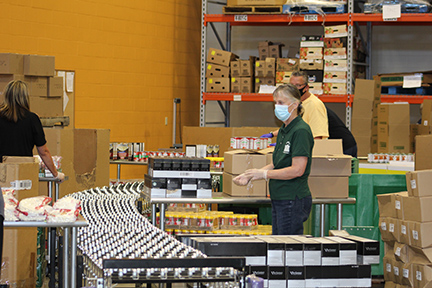 Join the mission of Second Harvest to create pathways to nutritious food. Meet other volunteers that share a common interest in making a difference in their community. In RePack, volunteers will help sort, weigh, prepare, and pack food that will be distributed to local families in Erie, Huron, Lorain and Crawford Counties.
Volunteer events in RePack will begin on Monday, August 17th. The schedule for volunteer events in RePack will vary by week. Volunteer Opportunities in RePack will be updated every Friday in Cervis. Majority of volunteer projects will be packing assorted boxes of shelf-stable food in order to meet the increased need in our community during the pandemic. All volunteers must pre-register for the event HERE in Cervis. We look forward to serving with you!
Please review the below list of safety procedures Second Harvest will be enforcing for the protection of our volunteers, staff and the National Guard during the COVID-19 pandemic:
No more than 10 volunteers per shift.
Social distancing of 6 ft will be enforced at all times.
Volunteers are required to wear masks before entering the building. Face shields may not be used in place of face masks.
Gloves provided are to be worn in the Volunteer Work Center
Volunteers must be 16 years and older.
Those at high risk for virus are not encouraged to volunteer, we trust that personal decision will be made with their own health in mind.
Taking temperature before volunteer event. If it is 100.4 or above or if you feel under the weather, we ask that you stay home.
If you have traveled out of the state in the last 2 weeks, we ask that you do not volunteer at this time.
All items and public spaces will be sanitized in between volunteer events with disinfectants effective against COVID-19.
Please remain in your designated work center.