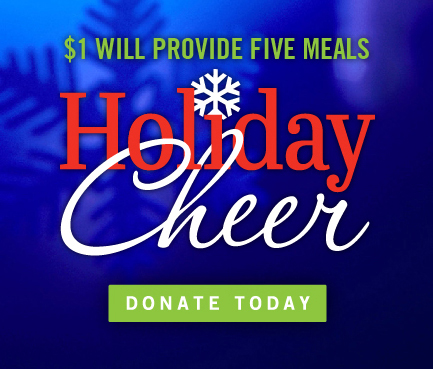 Make a family's holiday merry and bright! While practicing social distance, YOU can help feed families in our community during this holiday season.
November kicks off our annual fundraiser, Holiday Cheer. Participating Burger Kings are asking customers during the holidays to make a donation to feed families in our community. Second Harvest in partnership with Burger King, are looking for Secret Shoppers to order from the Drive-Thru at local participating Burger Kings. Volunteers purchase an item from the BK Menu and audit cashiers to verify that every customer is asked if they would like to donate to Holiday Cheer. Volunteers must have 2-4 successful secret shopper visits to their assigned Burger King from 11/23-12/18. Visits are only successful if the volunteer is asked to donate to Holiday Cheer by the end of the transaction.
Volunteer Requirements:
Comfortable handling cash and ordering food through drive-thru window.
Willingness to drive to their designated BK location at least 2-4 times throughout the month.
Log volunteer project service hours online.
Providing designated card to cashiers (Green Card+ $5 Reward -if asked to donate to holiday; Red Card- failure to ask to donate, try again!).
Wearing a mask properly when using Drive-Thru.
Kindness to cashiers and other BK customers.
Must be 18 years or older.
Volunteers responsible for purchase of their order.
Have fun with Secret Shopping!!! (Optional: Dress in your holiday gear and turn up the holiday tunes!!).
Volunteers registered for this event will be contacted to provide further instructions and information. To register for this event click HERE!
Thank you for all you do for Second Harvest! We look forward to serving the community with you during this Holiday Season!