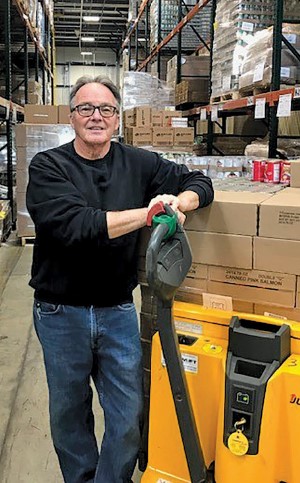 A life well lived can be compared to a fine wine. John Hopkins knows all about both. He worked in marketing and management for Wine Trends for 27 years. When he retired in 2017, he and his wife, Jill, moved to Avon Lake from Hudson to be near their grandchildren and John started volunteering at Second Harvest. This past March, he took volunteering to a new level working on an extra project for us at Second Harvest. John lends a hand in the warehouse, working alongside staff members who pick and set-up orders for distribution.
Each week he shows up on Monday morning, pulling orders to help us get the week off to a strong start. When asked what he likes about it, John admits, "I really like helping out here. I get to know the staff members, I know I am doing something that is really needed and I like the physical nature of it. It is personally rewarding to me."
Each summer, John spends about nine weeks at their family homeChautauqua Institute in New York where he immerses himself in creating and tending to their perennial garden. He also serves as a Board member for the Institute.
John has his degree as an illustrator. His wife, Jill, is an art teacher. Love of performing arts is part of their very fiber. They are members of the Friends of the Theatre at Chautauqua and when back in northeast Ohio, you can find them regularly at Cleveland's Playhouse Square, Case Western Reserve Theatre, local theatres and the art museums. Some of John's favorite days, though, are spent sharing these outings with their grandchildren.
Just like a quality wine, John's life has a fine bouquet, full of richness and depth. It is balanced and has a beautiful flavor that lingers on your palette long after you have savored its taste. We are happy and grateful for John's help and to be part of the bounty that makes John's days happy and fulfilling.