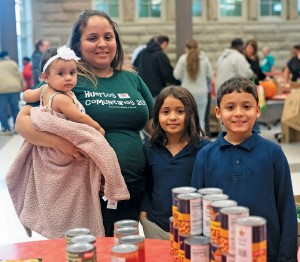 In our region, 1 in 5 children struggle with food insecurity.


Second Harvest works with over 112 partner charities and 8 school districts throughout the region to ensure children have enough to eat year-round. Despite our work, hunger still affects far too many children and their families as a whole.
The region's first Child Hunger Summit was held on September 19, 2019 with nearly 300 people in attendance from around the state and included a diversity of ideas and demographics. The goal was to drive awareness of child hunger, develop strategies to address the need and empower participants to take action. Speakers came from around the state and country, including Ohio First Lady Fran DeWine.
During the Child Hunger Summit, groups met for two sessions to identify three potential ideas from education, healthcare and innovative programs. As a follow-up, Second Harvest and the Child Hunger Summit Committee identifed top-level goals based off the three outcomes from each session.
The three goals Second Harvest will focus on are: 1) Improving connections and awareness to wrap-around services for students and eduators; 2) Creating WIC and SNAP clinics for outreach, eduation and appliation completion; and 3) Establishing a Food Advisory council to address hunger and community resouces.