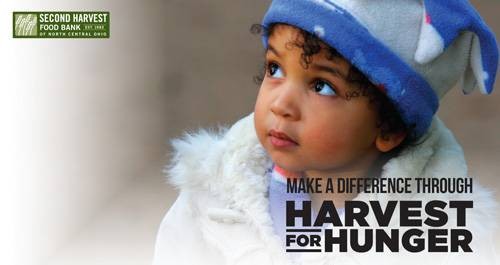 As we move through this unpredictable winter in Ohio, our excitement is building for Harvest for Hunger season! Our largest fundraising initiative of the year, the Harvest for Hunger campaign officially kicks off on Tuesday, March 5 from 4PM – 6PM at our Happy Hour event at Second Harvest led by our 2019 Honorary Harvest for Hunger Chair, Dr. Marcia Ballinger, President of Lorain County Community College. Be part of the most successful food and funds drive in the nation – Click Here – and help us meet our goal to raise 1.25 Million Meals for families in need in our region.
Each day we strive to help families, seniors and children who are struggling with hunger. Through our partnerships with local schools and nonprofits we provide food directly through our mobile and school pantry programs. But the core of our work will always be the relationship with our outstanding network of food pantry and hot meal programs run by dedicated volunteers and staff. A warm meal, a box of food or a welcoming smile is a small gesture that does so much good. I encourage you to read the story about The Tanner's who we were fortunate to meet through one of our distributions.
Your help and partnership is the only way we will continue to cultivate a healthy, hunger-free community because together we can accomplish anything. I hope you will join us with in supporting Harvest for Hunger and allow us to help more families in our region.