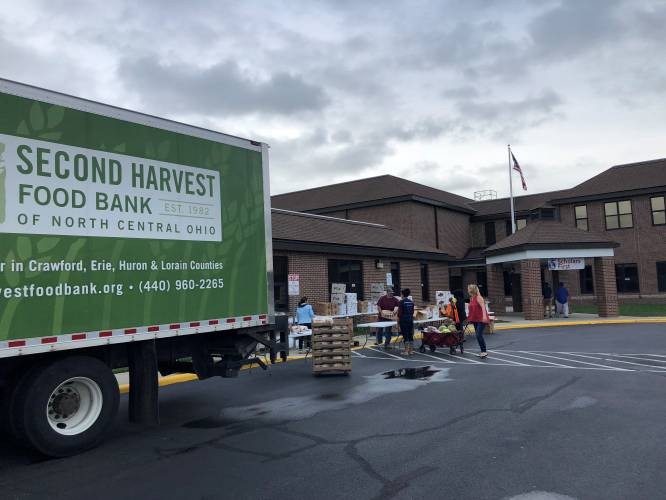 The School Pantry Program started this September as a pilot program at five sites throughout Lorain County. It is a program designed to alleviate child hunger through the provision of food to children, their families and the immediate school community. Because we partner with the schools and the distributions are located there, the goal is to provide a more readily accessible source of food assistance to low-income students and their families. Our goal is to serve entire families and increase the amount of fresh food entering homes.
We have three school districts participating, Clearview, Midview and Lorain City Schools. Each district has one distribution per month except Lorain, which has three middle school sites each conducting a distribution once per month.
As we approach the holiday break, our Manager of Program and Member Services, Samantha Flores reflects, "Momentum is definitely building! I see at some of the schools, this program is already gaining a foothold as part of the whole school community." She continues, "More students are volunteering to help, teachers are seeing the benefit and embracing the concept and more families in need are starting to know about it and are stopping by."
Typically, any new program takes a little time to ramp up and the School Pantry Program is no exception. Getting the word out to eligible families is a challenge and so is working with a new group of on-site volunteers. Southview Middle School, served 79 families in October. In November, they served 109 families that received about fifty pounds of food each. Teachers, student groups and parents all volunteered to help with the distribution. "You can really tell that this program is embraced by the school community and that will make a difference in reaching more people," shares Sam.
This pilot program will go on monthly at each site through the school year as well as through the summer months. Each site has a different set of variables to manage and tweak. Sam and her team, along with many helpful volunteers are working hard to reach as many children and families as possible. If you or a group you belong to would like to learn more about the program click here. To learn more about volunteering at a distribution, contact Samantha Flores here at Second Harvest.