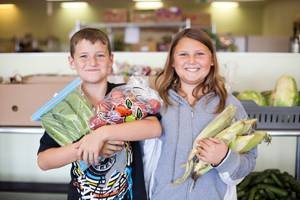 Back to School this year means we are rolling out the School-Based Mobile Pantry Program! One out of every five children in our region under 18 years of age is food insecure. This information has inspired us to create the Child Hunger Initiative. The School-Based Mobile Pantry, is one of them. The pilot program aims to feed children in a more holistic way to create food security for the entire family. By working with schools to provide food to families in a variety of ways, the initiative will dramatically increase the amount of food and meals families and their children will receive to address child hunger in our region. By October, all five middle schools: three in Lorain City Schools; one in Clearview Local Schools (Lorain); and one in Midview Local Schools (Grafton) will be distributing food to families in these districts and will continue each month. Our goal is to be able to expand our reach to serve both children and their families throughout our region. We anticipate that hundreds of children and families will be fed because of this program.
The BackPack Program will be starting up for the current school year, also. Volunteers will begin packing these for Lorain, Norwalk and Elyria Schools each week. We also work with the programs at Oberlin City Schools, Vermilion Salvation Army, Bucyrus, Our Lady Queen of Peace and PEP Willow Creek both of Grafton, Fish and Loaves and Galion. Sam Flores, the Program and Member Services Manager for Second Harvest shares, "This program has been around for several years and we still get feedback, even individual stories, telling us how much these backpacks mean to the kids who receive them. I'm so glad we can continue this for the coming school year."
We could not support these programs without the help of our community. The Stocker Foundation, The Nordson Foundation, The Ross Family Foundation, 100 Women Who Care About Lorain County, Target and the Red Nose Day Initiative are some that are leading the way for a community full of HUNGER HEROES who have taken a stand to support programs to help overcome childhood hunger in our area.