Answering the Age Old Question: Where Does the Food Come From?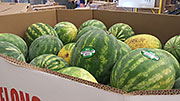 When you are the Executive Director of a food bank, you get a lot of questions from friends, family, and community members. Sometimes people want to know what counties we serve, where the food goes, and generally what we do. But the question I hear most frequently is: "Where does all that food come from?"
It's a great question for an organization that moves millions of pounds through our network of over 100 partner charities. The food we provide to our network comes from a wide variety of sources.
Each week our refrigerated box trucks are out on the road picking up generously grocery and food products from local and national retailers, such as Giant Eagle, Heinen's, Walmart, Sam's Club, BJ's Wholesale Club, Meijer, Kroger, Target, Aldi's, Big Lots and Marc's. These donations include frozen meats, produce, bakery items and virtually anythiing you can find in a grocery store. This is coupled with other local donors like Bimbo Bakeries, Custom Culinary, AdvancePierre, ChemTron along with local farmers & growers.
We also work closely with federal programs, The Emergency Food Assistance Program/USDA , and state programs such as the Ohio Food Program, Ohio Summer BackPack Program, and the Ohio Agriculture Clearance Program to stock our warehouse, freezer and cooler racks with food. Additionally we receive donations from national manufacturers and producers through our relationship with our national organization, Feeding America.
What many people don't realize is that we also purchase millions of pounds of food with financial donations we receive from foundations and fundraising campaigns. We are able to purchase the most needed food and items with the generosity of our community with the financial donations provided to us. As the need in our community continues to grow, our ability to purchase food to provide to tens of thousands of people across our service area is critical. Check out the Annual Report for a breakdown on all food sources.
This is where you come in. The Annual Harvest for Hunger Campaign is kicking off this month, and YOU can help us reach our goal of providing millions of meals to our neighbors in need. Making a financial contribution to the Harvest for Hunger campaign is easy. When you are checking out at Giant Eagle or Heinen's, just say "yes" when you are asked if you want to contribute to Harvest for Hunger. Even just $1 makes a difference. We can provide 5 meals with just a $1 donation. We are able to purchase food in large quantities and at greatly reduced prices to make your dollar go further.
In addition to saying yes to making a donation to Harvest for Hunger, there are fun and easy ways to get your workplace, friends, and family involved in the campaign. Click here to get started.
Thank you for all you do to support our efforts to make our community brighter, healthier, and more hopeful.
Julie Chase-MorefieldExecutive Director