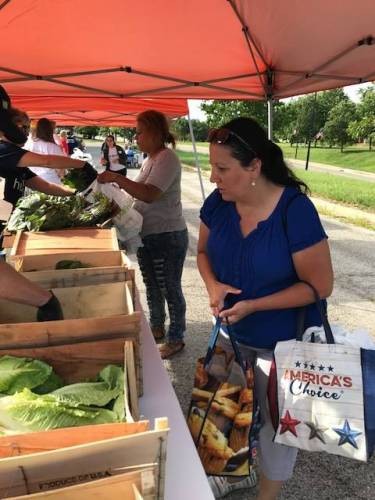 Second Harvest served nearly 120 first-time families at our first direct-distribution Farmer's Market in late July. There were about 40 other families served who were already in our system. One of our goals is to serve people who live in underserved areas.
The site for this first of four Farmer's Markets is the parking lot of Lorain County Health & Dentistry at 1205 Broadway Ave., Lorain. Other dates include: August 19, September 30 and October 21. It is located in an area were the food insecurity rate is at 30.4%, meaning that about 3,887 people in just the immediate area alone does not know where their next meal is coming from. The location is also close to and easily accessible to the areas in Lorain where the poverty rate, food insecurity and unemployment rates are high. Our goal is to set up a Farmer's Market distribution once per month for the four months of the growing season to offer fresh produce and nutrition education for low income families in Lorain. We estimate that as the Farmer's Market season progresses, we could serve up to 400 families each time. This Farmer's Market is being put on to help moderate to low-income families. Recipients must register so they will have to bring a photo ID and be income eligible.
The Farmer's Market program is a proven, successful trend in the food banking community that utilizes a mobile distribution network in the manner of a traditional farmer's market. Second Harvest Food Bank is in our tenth year of running Farmer's Markets throughout our region.