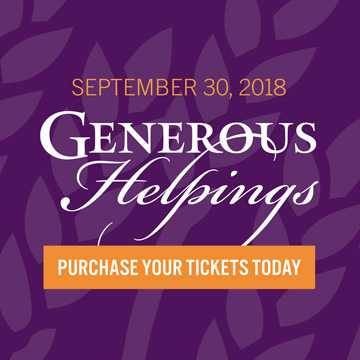 Generous Helpings is the culmination of Hunger Action Month and what a powerful display of community members and businesses coming together to put on the top charitable event in the county. It's a wonderful event for sure, but that is only because of the hard work and hours of donated time by the restaurants, the chefs, the committee members, the sponsors and supporters. This year, our special focus is on our Child Hunger Initiatives. We've put a call out for HUNGER HEROES so they will join forces with us to help stamp out child hunger!
All of the restaurants and chefs donate their time to offer the most delectable dishes. Chef John D'Amico from Chez Francois, has joined us for many years and continues to donate his time and shares his culinary talents with all of us in order to raise awareness about hunger. Over the years, Mary Zelek from Zelek's Flower Shop, has donated many hours of her time and creativity to transform the warehouse into a dazzling party venue.
Some of the newcomers this year adding to our slate of great restaurants include Peace, Love and Little Donuts, Sugar Shack Confections, Tom's Country Place and Spectrum Café. Check out the entire list of restaurants HERE.
All of our sponsors for Generous Helpings are also HUNGER HEROES. They have demonstrated through their work with Second Harvest that ending hunger in our region and specifically working towards ending child hunger is vitally important and they want to be a part of it.
Check out our list of HUNGER HEROES HERE.
So this year, while you are enjoying the wonderful delicacies and ambiance, remember that so many people, long-time supporters or new, have donated countless hours of their time, creativity and passion to making Generous Helpings the premier event in Lorain County.
See what all the buzz is about. Join us on September 30, 2018 from 5-8 PM and see. Click HERE to purchase your Generous Helpings tickets.