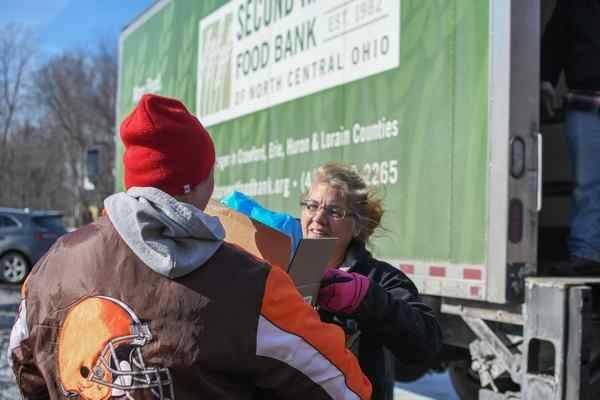 Second Harvest debuted a new mobile food pantry in January at the Lorain VFW. The purpose of the mobile food pantry is to expand efforts of to tackle food insecurity in North Central Ohio. A second Mobile Pantry at this site attracted nearly double the number of families at the one in February.
About 123 families who met income guidelines were able to take one box of nonperishables and a collection of produce provided by some of the local retail partners. "For our mobile pantries, we always try to bring produce from our retail partners," Flores said. "This time, we were able to bring s variety of item for clients to choose from. The most popular were the coffee and tea items. A close second were the baking supplies. We plan to offer more and more choice items as we go forward with this Mobile Pantry."
Second Harvest said the second mobile pantry site was an opportunity to reach more people in need by building on its summer farmer's markets and bringing the services to a more central location.
Advertisement.
The Lorain VFW is the second location in the city of Lorain with the mobile food pantry. El Centro de Servicios Sociales in the city's south side is the site of the first. The partnership between Second Harvest and El Centro began in 2012. The groups are able to help feed more than 300 families each month.
"I still think that the need is a little bit overlooked, and you'd be surprised at the atmosphere coming out to one of these," said Samantha Flores, Second Harvest program coordinator. "We just try to be as open and as friendly as possible to make it a good experience."
Second Harvest plans to hold a monthly mobile food pantry at the VFW on the fourth Wednesday of every month.
The new addition addresses the year-round needs of Second Harvest clients along with families who need assistance at the end of the month, Flores said.
"We've been doing a mobile pantry at El Centro for years, but we wanted to sort of scout out another location and we had targeted this area for a while," she said. "The VFW graciously let us use their space."