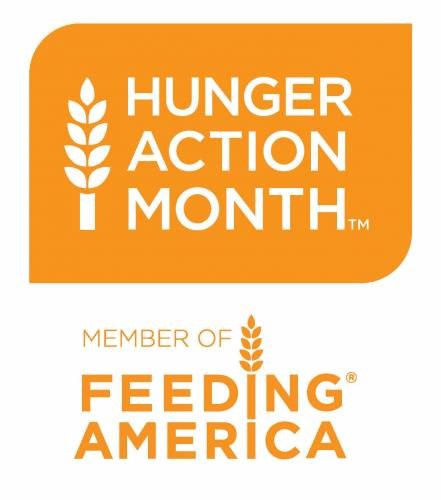 In our region, there are over 80,000 people struggling with hunger. We see neighbors, friends, even family members who are having a tough time making ends meet. It's because of them – and the nearly 49 million people in the US who are struggling with hunger – that we are asking you to help us raise awareness about the issue of hunger in our country.
Every year, across America, we designate September as Hunger Action Month – a time when we ask people to take action in the fight against hunger. It is your opportunity to join a movement that has a real and lasting impact on our effort to feed more Americans than ever before, whether it's by advocating and raising awareness, making donations, or volunteering.
We have many things planned this month for you to join in on but some of these things are best accomplished by you, with your own family, neighborhood and at work.
• Go orange! Encourage your city or township to shine an orange light (symbolic color for hunger) on city hall to mark the community commitment to end hunger locally.
• Wear orange to work or that civic meeting; talk to your friends about it.
• September 13 is Hunger Action Day! It is also Congressional Farm Bill Call-In Day. Call Sen. Sherrod Brown and Rep. Bob Gibbs at 888-398-8702 and ask them to protect SNAP and strengthen TEFAP. Click HERE for more information.
• Go online and join in the social media buzz. Change your profile picture Facebook and Twitter page. Click HERE for options.
• Become a HUNGER HERO. Join us in our super-hero effort to eliminate child hunger.
• Become a volunteer. For more information, click HERE.
• Join us for Generous Helpings. For tickets, click HERE.