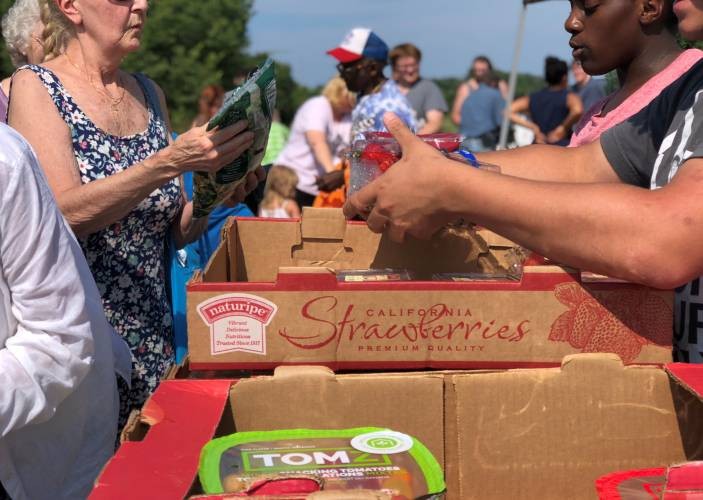 We will soon be filling out coolers and trucks with local fresh produce for distribution. Second Harvest is embarking on the 14th year of this program. We are fortunate to be partnered with local growers and farmers who can provide the fresh produce. These just-picked items come to us and are sent out to the scheduled Mobile Produce Pantries in a very timely manner.
The Mobile Produce Pantry program serves by setting up temporary tables at locations throughout the Second Harvest Food Bank service area in partnership with Second Harvest partner charities. Recipients register with a Second Harvest partner to qualify and then may select their produce from tables filled with locally grown fresh food and produce or may participate in drive-by pick-ups of pre-packed boxes of produce and recipes. A typical market will feature 8-12 different produce items including apples, green beans, beets, cabbage, cauliflower, cantaloupe, carrots, cucumbers, eggplant, greens (multiple varieties), leeks, lettuce, peaches, parsnips, pie pumpkins, radishes, squash (multiple varieties), sweet corn, onions, potatoes, turnips, watermelon and zucchini.
The Mobile Produce Pantry season runs from July through October. Last year, we put on over 126 Mobile Produce Pantries, distributing over 725,000 pounds of produce and groceries, feeding over 17,000 families who rceived an average of about 40 pounds of produce per household. So many of these families can now have nutritious produce to last a week to 10 days afterwards.
For a list of distributions and Mobile Produce Pantry dates and locations, check our website here.