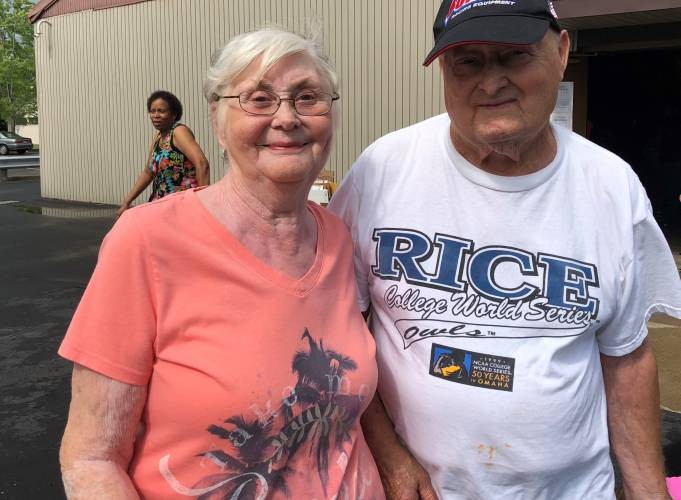 Laura Tanner is from South Lorain and first learned that she and her husband might be eligible to get fresh produce at a local distribution from her neighbor who offered her some carrots and blueberries. They soon attended the food distribution at Mother Cabrini's, themselves and got more than they bargained for. Not only were they able to receive fresh, healthy produce, they were able to get to know so many helpful and caring people along the way.
Laura is 80 years old and is partially blind. When she was 73, she was in her 23rd year of working for a local banquet facility when she contracted a rare eye disorder that left her with permanent eye damage forcing her to retire. She and her husband found themselves needing to cut corners and live as simply as possible. When she went to her first mobile produce pantry at Mother Cabrini's four years ago, she was amazed and grateful for the bounty of fresh produce that they could get and insists on respecting the opportunity. "I only take what we can use," Laura insists. "Never any more. It is such a gift."
The Tanners have occasionally visited other produce pantries in Lorain when needed and have gotten to know some of the volunteers and Second Harvest workers. This has been an added benefit for all. Laura said, "It was a surprise when I walked in to a distribution at the intake table and Brittany greeted me by name! How nice to have people know you and treat you so kindly."
Since December, the Tanners have been so happy to receive milk, eggs, butter and chicken at the distribution. These items came to us from the UDSA through the tariff relief program for farmers, growers and producers. The advantage of receiving these commodities for distribution is clearly to benefit of those who struggle with hunger in our region, especially children and seniors who, together, make up 53% of our distribution.
After a lifetime of hard work, the Tanners never dreamed they would be in a situation where they struggle to keep nutritious food on the table in their golden years. Laura is happy to know that if they run short on any given month, they have a mobile produce pantry or food pantry that can help them and friendly faces to warmly greet them when they do.