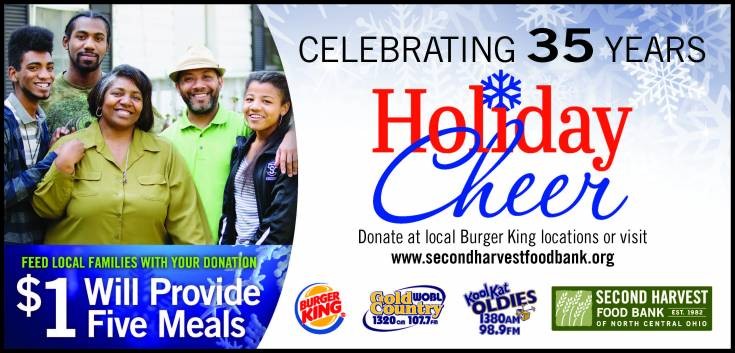 The 35th annual Holiday Cheer Campaign is underway and runs through Christmas Eve at 17 Burger King locations to raise money to feed individuals and families in need during the holiday season.
Participating Burger King outlets will sell coupons where each dollar donated can give five meals for people at risk. The Burger King restaurants are located in Lorain, Huron and Erie counties.
Julie Chase-Morefield, president and CEO of Second Harvest, Doug Wilber, president and CEO of WOBL and WDLW Radio, and Sully Renuart, president and CEO of Midwest R Corp. that owns the Burger King franchises involved, all worked together to sponsor, organize and spread the world about the campaign.
Julie Chase-Morefield said about 50,000 people are served at local food pantries annually, but no time of year is worse for families than the holiday season.
"It's always tough this time of year because heating bills have started, the kids have gone back to school and you've got your clothes and winter coats and all of those expenses and of course every parent wants to make sure that there's a present under the tree for their kid," she said. "This is also the time when people feel more giving."
The kick-off breakfast for the campaign was held at the Burger King on Broad Street in Elyria with friends of the campaign stopping by with donations and high hopes for a great campaign.
Since its inception in 1983, the campaign has collected $1.1 million. The first year, $3,500 was raised. Last year, the campaign raised about $70,000 and the goal for this year is $75,000.
"This is a wonderful community that really strives to give back and help people, so we're pretty confident," Chase-Morefield said.
Although Wilber said the amount of money sounds like a lot, it doesn't last very long when providing so many meals for people in need.
He also commended the Burger King outlets that have such dedicated and passionate cashiers and staffers who work to sell the coupons. "If it wasn't for Burger King, I think we'd be raising a lot less money than we did," Wilber said.
Donate online or stop by any Burger King restaurant to make a donation.