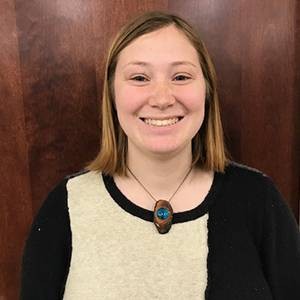 January is National Mentoring Month and we thought we'd participate in the celebration by introducing you to our own mentee, Emerald Woodburn. Emerald started here at Second Harvest in October on the advice of her LCCC internship advisor. She is part of the Volunteer team here and works closely with our efforts to reduce waste in the landfills, recycle some unusable food to animal farmers and to safely dispose of over-the-counter medicines. Emerald has been instrumental in connecting us with the Friendship APL as a destination for some animal food and litter than ends up in our food drive bins.
"I have definitely learned a lot," Emerald says. "Susan and her staff are very open to learning ways to reduce our waste." Emerald is a student in the LCCC Partnership Program studying Integrated Environmental Studies at Hiram College. Her goal one day is to be able to be instrumental in restoration projects after natural disasters.
By preparing young people for college and careers, mentoring helps develop the future workplace talent pipeline. Mentors can also prepare their mentees for professional careers and assist with their workplace skills in many ways. Emerald is also involved in all aspects of the volunteer experience here at Second Harvest, from sorting and repacking donated food, to working Mobile Pantries, to data input.
"My mom raised six kids by herself. Growing up, there were times when we had to visit food pantries and hot meal programs to get by," she said. "I know first-hand about the real need out there. It has been so special to learn about all that goes on here at Second Harvest to help families today who were like us."
Emerald and her boyfriend live in a house they recently purchased in Elyria. She will be at Second Harvest through April. She also works at the Lorain Public Library in North Ridgeville in the circulation department. Her plan is to graduate next year and eventually go on to get an advanced degree. We know that Emerald will go on to help so many throughout her career. We feel privileged to have her work with us for a while and be a piece of the mosaic that makes up her life journey of successes and accomplishments.