Mission Statement
Grow hope in our region by creating pathways to nutritious food.
Vision Statement
A brighter future for all by cultivating a healthy, hunger-free community.
35 Years of Growing Hope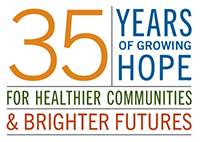 It all started with a man named John Van Hengel. In 1967, John volunteered in the soup kitchen of a Catholic church in Phoenix. He bought an old milk delivery truck and used it gather citrus fruit gleaned from farmer's fields which he delivered to the soup kitchen and homeless missions. When he realized the volume of food that was being thrown away by farmers and grocery stores, his goal was to create a more efficient method to distribute food. So, with a $3,000 donation from St. Mary's church and a donated building – food banking was started.
John named the first food bank St. Mary's Food Bank in honor of that first donation and went on to create what is now Feeding America, the national food bank network, and also the international version, the Global Food Bank Network.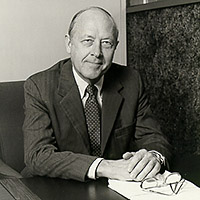 The concept of food banking reached eastward in the late 70s and early 80s. As the country was gripped by a recession in the early 80s, a local group of concerned citizens led by Jeptha Carroll (pictured), Eric Nord and Evan Nord created the County Cupboard. At that time they viewed it has a temporary solution.
In our earliest days we were in a storefront in Vermilion, next to what is now Fifth Third Bank, and later moved to the site on Leavitt Road, where distribution continued to expand. Our first truck was purchased through the Buck for a Truck campaign – spearheaded by the Stocker Foundation. In the mid-90s, the board changed the name from County Cupboard to Second Harvest Food Bank of North Central Ohio, and undertook an ambitious campaign to build a new facility. We were the first food bank in the state to build a facility of its kind.
The Deer Trail facility moved distribution from providing just over a million meals to more than six million, at the time we moved our current facility.
When the recession hit in earnest in 2008, the board and staff were in the midst of strategic planning. At that time, we believed we would start considering a new facility in 2013. But as the foreclose crisis spiraled and lay-offs increased, the numbers of people needing our help grew. In 2008 we served 31,000 people per month through the food pantry network; at the end of 2016 it was 49,000 people.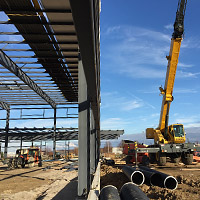 This new normal – this higher level – has been sustained over the past six years and shows no sign of receding.
So, in 2010 a site selection committee was formed and so began the five-year process of raising the funds, making the plans and constructing our new facility.
The capacity we have gained has allowed us to operate effectively and efficiently. Distribution has increased by 10 percent. Second Harvest has more volunteers than ever.
New Nordson Food Distribution Center
More Capacity. More Impact. Less Hunger.
Over the past 10 years, Second Harvest has tripled distribution of food and grocery products to our network of partner charities. Many children, senior citizens, veterans, and families living on fixed incomes are trying to make ends meet in an economy that is struggling to recover.
Operations began June 1, 2015, from the Nordson Food Distribution Center, situated on over 5 acres of land on Baumhart Road in Lorain. We have tripled our capacity and increased our ability to provide healthy and nutritious food to our neighbors in need. Our new facility features:
Nearly 6,000 square feet of refrigeration space with 7x the capacity.
Increased dry storage space by 60%.
Volunteer Work Center for expanded projects, with a separate "clean room" for bulk sorting and packaging of backpacks, senior food boxes and mobile food pantry boxes.
Four times the dock space to accommodate greatly expanded shipping & receiving
Separate area for mulltiple partner charity pick-ups.
Multiple meeting rooms for small and large meetings with audio-visual capabilites.
We have done much good for those who struggle with hunger, but in the past – because of our severely limited capacity – we were not able to keep up with demand. Now, we will be able to provide eggs all year-long, not just from November until June. Now, we can accept full shipments of oranges in January when local fruit is unavailable. Now, we don't have to turn away donations from local farmers who have unexpected surplus at the end of their growing season. Now, we can fulfill more orders for schools that have children who can benefit from the kids BackPack program. Now, we can offer more high protein foods like yogurt, deli items and poultry. With triple the capacity, the possibilities are endless!
Make no mistake. Our goal is to do everything we can to end hunger in our region. It makes the most sense to prepare and plan correctly and take every step because it is the most judicious, strategic and logical path towards fulfilling our mission of sourcing and providing food to those in our region who struggle with hunger.
As we review our past, we are humbled to report that we've been able to distribute over 118 million pounds of food, which is almost 99 million meals. Just as we know that this would not have happened without the help of so many caring and generous supporters, we realize that to reach all those in our area who are food insecure, we need your help. We believe that together we are doing even more than just feeding people. We are Growing Hope.